Main Content Area
UWPA Home
Mission Statement: UWPA is dedicated to creating a vital, productive and empowering environment for all Faculty, Staff and Students by advancing a climate of excellence and service at SIU Carbondale. The mission of UWPA in particular is to create and support equitable opportunities for all women throughout the SIU Carbondale campus and community. This intention is met through UWPA's signature programing, advisory board and ongoing support for women's professional development, social empowerment and personal advancement.
Photos from our "Lean In" Leadership Workshop Series
Featuring Dr. Suzanne Altobello, 
Associate Professor of Marketing, College of Business, SIU Carbondale
Speaking to a nearly full house.
An encouraging message from Doctor Altobello.
SIU students shared their perspectives.
SIU staff members offered many ideas.
The physical posture of success.

A diverse group of students from Carbondale Community High School attended.
Celebrate Women!
Anna Jackson: 2013 UWPA Mentorship Award Winner
Professor Jackson has supported generations of teachers and students through her teaching of Young Adult Literature and her work in the educational community.
Celebrate Women Thanks!
Dr. Janet Fuller (left) and Melinda Yeomans (right) with graduate student scholars.
Credos
We believe in supporting fair and just treatment for all human beings. 
We appreciate and value professionalism and, thereby, believe equal opportunity should be available to everyone.
We believe that, where barriers exist, procedures and legislation must be amended to expedite the removal of such barriers. 
We believe women's capabilities should be acknowledged and fully utilized.
We believe in an equitable reward system for everyone.
We believe that special efforts to improve the professional development and advancement of women of all ethnicities will ultimately enhance the social development and status of the University.
We believe that through cooperation and collaboration we can enhance the social, intellectual and economic quality of SIU Carbondale.
About UWPA
In October 1987, a Presidential Task Force to study women's issues was convened on the SIU Carbondale campus. One year of work was completed by approximately 30 faculty and staff who proposed several specific recommendations to President John Guyon. Afterwards, he appointed a permanent committee which was led by Dr. Uma Sekaran who then further examined the status of women at SIU Carbondale.
In August 1999, Dr. Janice Schoen Henry became the first coordinator of University Women's Professional Advancement (UWPA). Since its establishment, UWPA has had a strong and effective presence on the SIU Carbondale campus collaborating and advocating for inclusive excellence and women. 
UWPA Objectives 2013-2014 Academic Year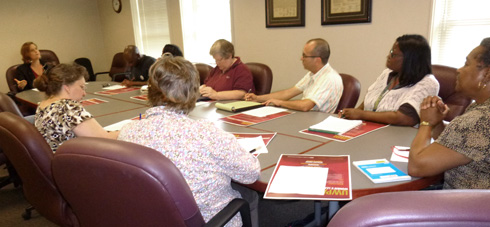 UWPA Advisory Board Meeting.
UWPA Advisory Board
Bi-Monthly Meetings
Discuss and plan programing and trajectory together
Creation of sub-committees to serve projects
Professional Development Opportunities
UWPA Leadership Series: Monthly Workshops
Mentoring female Faculty, AP and Civil Service
Travel/research grants for Faculty, AP, Civil Service and Students
Civil Service Connections Group Support and Network
Civil Service Professional Development Programming
Awards and Scholarships
UWPA University Women of Distinction
Joint Awards with WGSS
Research Grants
Graduate Student Scholarships
Event Programing
UWPA Civil Service Luncheon
UWPA Faculty Social and Mentoring Start-Up
UWPA Mentoring Socials for AP, NTTs and Civil Service
UWPA Open Houses Fall and spring
Celebrate Women (w/ WGSS and AAUW)
UWPA Open Houses Fall and spring
HERS Collaboration
Guest Speakers, Scholars & Leaders (Hosting Native American Poet, Joy Harjo and other speakers, films and dialogues)
Women's History Month & Scholars Conference (w/ WGSS)
Illinois Women in Leadership Panel (Chancellor Rita Cheng invited to commence this late fall or early spring)
Faculty Scholars' Panel
Graduate Scholars' Panel
Advocacy & Campus Education
UWPA Leadership Series: Monthly Workshops
Civil Service Resource List
UWPA Resource Library
Parental Leave Brochure (An educational tool for faculty and staff created with Dr. Fuller, WGSS)
Workshop(s): Progressive Gender Dynamics: Creating a Climate of Mutual Respect and Empowerment For Men and Women
Service Projects
The Working Mother Project: Providing Job Skills Growth to Underserved Women in the Carbondale Community
Community Service for Youth in Southern Illinois - The Professional Advancement Project
Gender Climate Research